New Policy for Applicants Filing COS to F-1
United States Citizenship and Immigration Services (USCIS) announced on June 20th a new policy eliminating the need for individuals applying for change of status (COS) to F-1 (student) to apply to change or extend their underlying status while the F-1 COS application is pending. Prior to this new policy, applicants were required to maintain their underlying status throughout the COS. This policy often forced applicants to file numerous extensions of their underlying status in addition to the COS to F-1 status, to avoid having a "gap" in status.
Under the new policy, to prevent a "gap" in status, USCIS will grant the COS to F-1 effective the same day the application is approved. Applicants whose COS to F-1 is approved more than 30 days from the start of the academic program must avoid violating their F-1 status during that time. USCIS is in the process of revising its online instructions to reflect these changes.
New DACA Applications Blocked in Texas Ruling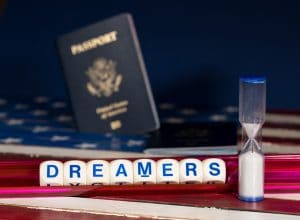 Deferred Action for Childhood Arrivals (DACA) is an Obama-era program that defers deportation for eligible young people who came to the United States as children and who have met certain other requirements. DACA registrants may also apply for a work permit. Over 600,000 DACA recipients – or "Dreamers" – have benefitted from the program since its 2012 launch. The program has been in limbo since 2017, when the Trump administration tried to end it; a move which was overturned by the Supreme Court in 2000.
President Biden vowed to make DACA's reinstatement a priority for his administration, promising on this first day in office, "to take all actions… consistent with applicable law, to preserve and fortify DACA." However, full reinstatement of DACA has been short-lived. On July 16, 2021, a federal judge in the Southern District of Texas issued an injunctive order barring new DACA registrants, ruling that the Obama administration violated the Administrative Procedures Act in promulgating DACA. Importantly, the injunction does not affect current DACA registrants.
Nevertheless, the injunction upsets the plans of the tens of thousands of young people living in the U.S. USCIS received more than 50,000 new-registrant DACA requests from January to March after announcing it would start accepting first-time applicants in December. Although the Biden administration is expected to appeal the decision, the livelihoods of prospective Dreamers across the U.S. are now in jeopardy indefinitely.
Updated NIV Processing Times at U.S. Consulates Abroad
In light of the pandemic and COVID-related travel restrictions, getting a U.S. visa at embassies around the world remains a challenge. In June GYH published an alert displaying the wait times at various U.S. consulates abroad (in non-banned countries) for F-1, J-1 and other nonimmigrant visa types. Below are PDFs of updated wait time charts based on information provided by the U.S Department of State as of July 21, 2021.
Client Resources
The American Immigration Lawyer's Association's (AILA) Client Resources Committee produced informative infographics and guides responding to FAQs from clients. The below flyer provides a checklist for F-1 Students Transitioning to Cap-Subject H-1B Status.
View full alert and subscribe: https://conta.cc/3l4gjgy