GYH publishes its first newsletter of 2020, focusing on gratitude in the immigration space.
January 15, 2020
Happy New Year, readers! For this issue of Transcending Borders, we looked back at 2019 for things for which we can be grateful. In terms of immigration law and policy, 2019 brought a myriad of fast-paced and often chaotic challenges for those embroiled in and affected by the immigration debate. Yet, in some instances, our system of checks and balances, and particularly our independent courts, helped to defray and delay the impact of unreasonable immigration policies. We hope this newsletter will help shed some light on many of these new developments.
As Grossman Young heads into its second year of existence as a law firm, we've enhanced our legal staff and promoted experienced attorneys into leadership positions with the goal of continuing to achieve great results for our clients. We continue to strive for improvements, balance, creativity, courage, and of course, success. We are better positioned now than ever, to meet the challenges of tomorrow.
There are many things to be grateful for as we head into 2020.
In this issue:
Gratitude in the Immigration Space
Public Charge Rule Blocked
Countries added to E treaty investor visa program
Poland added to visa waiver program
TPS extended
F/J Unlawful Presence Memo Enjoined
Exciting Developments at GYH
New leadership at GYH: Meg Hobbins becomes a Partner and Rita McCarthy Counsel.
GYH Welcomes Elana Gold
Sandra Grossman's article on INTERPOL abuse and the TRAP Act published in the Federalist Society Review
GYH Turns 1!

---
Public Charge Rule Blocked
In August of last year the Trump administration unveiled a new rule which took a more stringent approach to the long-standing immigration law stating that an immigrant may be deemed inadmissible if they are considered likely to become dependent on the government for cash aid or long-term institutionalized care. According to the Department of Homeland Security (DHS), the intention of the new rule was to formalize the way the agency determines whether an applicant is likely to become a public charge. Under the new rule, DHS significantly broadened the types of public benefits to be considered and increased the discretion of immigration officers in determining who is "more likely than not" to become a public charge... Read more.
---
Countries added to the E Treaty Program
Despite being a year of restrictive visa policies, 2019 saw the addition of Israel and New Zealand to the E treaty investor visa program. The program allows nationals of countries with which the U.S. maintains a treaty of commerce and navigation to be admitted into the U.S. when investing substantial capital into a U.S. business. Specifically, eligible individuals must be coming to the U.S. to engage in substantial trade in qualifying activities between the U.S. and the treaty country or to develop and direct the operations of an enterprise in which the individual has invested substantial capital. Beginning June 10, New Zealand companies and nationals became eligible to apply for treaty investor temporary visa status. Israeli citizens and companies became eligible for the program effective May 1. The E visa option also has more flexibility than many other categories, including no cap on time spent in E status and spouses permitted to apply for work authorization.
---
Poland Added to the Visa Waiver Program
On November 6, 2019, DHS announced that Poland was designated into the visa waiver program, allowing citizens and nationals of Poland to apply to travel to the United States for tourism or business purposes for up to 90 days without obtaining a U.S. visa. DHS referred to this development as "a testament to the special relationship that exists between our two countries, and the ongoing friendship and close cooperation on our joint security priorities."
---
TPS Extended
On November 4, 2019, DHS unveiled a Federal Registry notice that extended Temporary Protected Status ("TPS") for beneficiaries of six eligible countries, including El Salvador, Haiti, Honduras, Nepal, Nicaragua, and Sudan. Beneficiaries from these six countries account for 98% of all TPS applicants. Prior to the announcement, the humanitarian status was expected to expire as soon as January 4, 2020, and March 24, 2020 for Sudanese beneficiaries. The extension provides a legal status, and all accompanying entitlements, such as work authorization, for TPS recipients until January 4, 2021... Read more.
---
F/ J Unlawful Presence Memo Enjoined
On May 3, 2019, a Federal Court issued an injunction in Guilford College v. McAleenan against the Department of Homeland Security's policy memoranda recalculating the accrual of unlawful presence for F, J and M nonimmigrants, including foreign students and exchange visitors. USCIS is now enjoined from implementing the new policy... Read more.
---
Exciting Developments at GYH
Changes in Leadership
To start the new year off, GYH is pleased to announce the promotion of two of its attorneys into new leadership positions.
Meg Hobbins, Partner
Meg Hobbins was promoted from Senior Attorney to Partner, making her the first attorney in GYH history to make Partner. Meg's practice focuses on humanitarian and family-based immigration matters before U.S. consulates abroad, U.S. Citizenship and Immigration Services, the U.S. immigration courts, the Board of Immigration Appeals, and the federal courts. She also represents clients before INTERPOL to challenge politically-motivated Red Notices. Meg has proven herself as an outstanding advocate and litigator with well over a decade of experience in the field. In addition to her extensive experience with consular processing, inadmissibility waivers and family-based immigration, Meg spends considerable time seeking a variety of humanitarian forms of relief for her clients, including Asylum, Violence Against Women Act protection, visas for victims of trafficking and more. As part of her dedication to the humanitarian aspects of immigration, she dedicates substantial time to providing pro bono legal services to the most at-risk immigrants. In 2019, Meg spent two weeks at the Texas border volunteering with the Dilley Pro Bono Project, helping detained migrant mothers understand and prepare for their credible fear interviews.
"I am honored to take on the role of partner at Grossman Young and Hammond, a firm that tackles the most challenging immigration and international legal issues of our time," says Hobbins. "With this new role and new decade ahead, I am excited to continue to advocate for our clients seeking justice before U.S. immigration agencies and INTERPOL."
Meg's dedication to her clients and to the firm helped make this first year a success. Her invaluable leadership amongst her colleagues makes her an ideal addition to GYH's management team. We look forward to her continued contributions.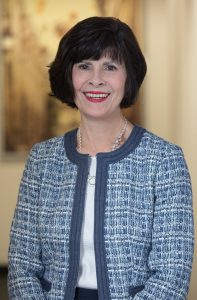 Rita McCarthy, Counsel
Rita McCarthy, one of GYH's longest-standing employees, was promoted from Senior Attorney to Counsel in recognition of the critical guidance she offers her colleagues, her unwavering dedication to her clients, and the depth of her expertise.
Rita McCarthy, who joined the firm in 2006, focuses her practice that on business immigration issues for a vast range of corporate clients in the research, technology, and non-profit sectors, among others. Rita also counsels multinational managers, persons of extraordinary ability, foreign investors, and Canadian and Mexican professionals applying for TN status. Rita McCarthy began working in immigration in 1996, where she represented both business- and family-based immigration clients. She later moved on to Loyola University Medical Center, where she handled the business immigration needs of the institution, its physicians and scientists as well as served as the designated officer for J-1 and F-1 students. Rita has extensive experience in all aspects of employment based green cards, including PERM labor certification, immigrant visa petitions, adjustment of status, and consular processing.
"Grossman Young & Hammond has an amazing team of dedicated and knowledgeable professionals and I am thankful to be a part of this respected law firm," says McCarthy. "I started with Denise Hammond's firm years ago and was present for her merger with Becki Young and the recent merger with Sandra Grossman. It's exciting to be a part of such a dynamic and growing organization. I am proud to say that we continuously have provided outstanding legal services with excellent outcomes, despite the immigration turbulence of the last several years. GYH definitely is a rewarding place to work and I am looking forward to my new role as Counsel."
---
GYH Welcomes Elana Gold, Attorney
One of the most recent additions to the GYH family is Elana Gold, who joins the firm as a soon-to-be admitted attorney in the Bethesda office, where her practice will focus on federal court litigation, removal defense, and family-based and humanitarian visa issues.
Elana Gold has been participating in the fight for migrant justice in Central America, Mexico, and the United States for the past decade as both an organizer and lawyer. She grew up in Takoma Park, MD and went to El Salvador for the first time at age 15 to help build a water tank for a rural community without access to water in its homes. She then studied Latin American Studies during her undergraduate career at Temple University and immigration and criminal law at CUNY Law School. After law school, Elana was a staff member of the Water Protector Legal Collective in North Dakota, an organization that provided criminal defense representation to the 800 activists arrested at the Standing Rock protests against the Dakota Access Pipeline. When the criminal cases were coming to a close, she went to Mexico for six months working on behalf of the National Lawyer's Guild to provide legal workshops for migrants in caravans journeying to the American border. Elana is excited to be admitted this month and begin her career as a licensed attorney. Outside of work, she enjoys playing soccer, reading history, and engaging in grassroots racial justice movements.
---
Sandra Grossman's article on INTERPOL abuse and the TRAP Act published in the Federalist Society Review
January 10, 2020 – The Federalist Society published an article, co-authored by Sandra Grossman and Ted Bromund (The Heritage Foundation), regarding the abuse of INTERPOL, its extensive threat to human rights, and the importance of the Transnational Repression Accountability and Prevention (TRAP) Act to prevent and diminish this serious abuse of power.
Repressive regimes use Interpol to issue illegitimate Red Notices and diffusions against political opponents. The effect of this abuse can be severe and infringes on the due process and human rights of those who fall victim. Contrary to popular media portrayal, Interpol has no ability to conduct investigations or make arrests; it is akin to a bulletin board on which the world's police forces can post their own, national wanted notices. In fact, Interpol's constitution strictly prohibits it from any involvement in political, racial, religious, or military affairs.
The TRAP Act is framed as a response to the problem of transnational repression. It requires that the U.S. use its "voice, vote, and influence . . . within INTERPOL's General Assembly and Executive Committee to . . . improv[e] the transparency of INTERPOL and ensur[e] its operation consistent with its Constitution." While the TRAP Act does not address every kind of Interpol abuse, it makes a valuable contribution to shedding light on the issue.
To read the complete article, click here.
---
GYH Turns 1
It feels like just yesterday that Transcending Borders was announcing its first issue, following the merger that created Grossman Young & Hammond, LLC. November 13, 2019 marked the one-year anniversary of when the strategic partnership between Grossman Law LLC and Hammond Young Immigration crystallized into a brand-new firm, offering a full suite of immigration services.
Grossman Young & Hammond is proud of its success this first year. The firm continued its growth with the addition of several new employees, including attorneys, paralegals and administrative staff.
Keep track of Transcending Borders in 2020 for more updates on the Firm's expansion as it enters its second year!