Mohamed Abubakr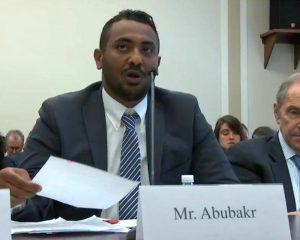 Mohamed Abubakr is the President of AMEL, the African Middle Eastern Leadership Project, a Washington DC based nonprofit with a mission to mobilize, empower, and unite millennial leaders and activists from the Middle East and Africa (MEA) to build resilient, inclusive societies that are free from discrimination, persecution, and violent coercion, and to advocate for policies in support of these goals. Mr. Abubakr is a Sudanese human rights activist and peacemaker with a decade and a half of civil society experience. Since high school, he has founded and led organizations and initiatives focused on humanitarian, human rights, youth empowerment and peace programs across the MEA including in Darfur, South Sudan, Sudan, Egypt, Israel, the Palestinian Territories and beyond. He has also documented, reported and mobilized against human rights abuses across MEA, and since arriving in the United States has become a sought-after voice at the State Department and in Congress concerning policy and human rights issues in the region. Attorney Becki Young originally secured an O-1 visa for Mr. Abubakr to travel to the U.S. for a speaking tour with stops including the U.S. State Department, U.S. Institute for Peace, the World Bank, the National Endowment for Democracy, SAIS, Stanford University, the United Nations, the Woodrow Wilson Center, UC Berkley, and the American Jewish Committee. Ultimately, Attorney Young worked with Mr. Abubaker to obtain a green card in the extraordinary ability category, so he could continue his important human rights work from the United States.
---
Mohammed Al-Samawi
Mohammed Al-Samawi, a well-known peace activist from Yemen, risked his personal safety and wellbeing in order to promote mutual understanding and dialogue between Muslims, Jews, and Christians. As a result of his activities, individuals likely associated with terrorist groups such as Al-Qaeda and the Houthi rebels currently controlling parts of Yemen, wrongly accused him of being an agent for Israeli intelligence forces, of working to convert Muslims to other religions, and of proselytizing to Muslims. These same terrorist organizations threatened to murder Mr. Al-Samawi. Ms. Grossman and her team successfully represented Mr. Al-Samawi in his asylum proceedings. With secure status in the United States, Mr. Al-Samawi continues his work in inter-faith peace building. He is also the Author of The Fox Hunt, A Refugee's Memoir of Coming to America, and a frequent invited speaker, represented by Harper Collins.
---
Joey Alexander
Joey Alexander is a Grammy-nominated jazz pianist, performer, and composer, lauded as a child "prodigy," who has taken the world by storm with his extraordinary ability to perform and compose jazz music. Joey has received critical acclaim all over the world for his tremendous talent, including at: Lincoln Center (in New York City, U.S.), the World Youth Jazz Festival (in Kuala-Lumpur, Malaysia), the World's First Jazz Improvisation Festival-Contest (in Odessa, Ukraine, where Joey beat out over 40 adult international musicians to take home the top prize), the International Java Jazz Festival (in Jakarta, Indonesia), and the Copenhagen Jazz Festival (in Copenhagen, Denmark). He has also performed before the United Nations Educational, Scientific, and Cultural Organization (UNESCO). Joey's extraordinary talent has been recognized by critics, celebrities, professional musicians, and international dignitaries alike. Attorney Grossman and Attorney Zoghlin successfully secured a visa of extraordinary ability for Joey.
---
Caroline Bailly
Caroline Bailly is an entrepreneur and the proprietor of L'Atelier Rouge, a preeminent NYC floral design boutique that also offers event design and production and editorial styling services. Her work has received international acclaim and has been written up in major media including: Martha Stewart Weddings, Inside Weddings, Vanity Fair, Vogue, The Knot, Town & Country, Elle Décor, Good Housekeeping, Architectural Digest, Marie Claire, US Weekly, and the New York Post. Attorney Becki Young has worked with Ms. Bailly for nearly two decades, since she was a up and coming professional on the New York event design scene and assisted her to obtain work authorization for event design roles with top NYC hospitality businesses Payard Patisserie, Daniel Boulud's Dinex Group, and Geoffrey Zakarian's Country before securing permanent residency for Ms. Bailly and her family. Since L'Atelier Rouge was established in 2010 Attorney Young has obtained green cards for two talented international floral designers in the extraordinary ability category and has also procured visas for several floral/ event design trainees.
---
Nico Borromeo
Nico Borromeo is an Argentine music producer, composer, session musician, mixing engineer, and electronic dance music (EDM) DJ. He rose to prominence as one of South America's top EDM DJ's as half of the duo "Come & C." Borromeo performed at leading international music festivals in South America, had hit songs play on popular urban radio stations as well as MTV, and won 1st place at the national level in the 2014 Miller SoundClash competition in Buenos Aires, Argentina and 2nd place in the international competition in Las Vegas, Nevada. Publications about his work have appeared in the international media including Rolling Stone and DJ Magazine. He has also composed and produced music for major commercial brands as well as leading South American films. Attorney Becki Young assisted Mr. Borromeo in securing temporary O-1 work authorization for him, and then permanent residence, both under the category of "extraordinary ability."
---
Michael Engelmann
Michael Engelmann was named Best Sommelier in America by the American Sommelier Association in 2009. He is one of only 236 wine experts in the world to be named a Master Sommelier by the Court of Master Sommeliers in 2011, passing the master sommelier examination on his first attempt, a distinction that only 14 people have achieved in the 40-year history of the Court of Master Sommeliers. In 2016 he and his colleagues at Danny Meyer's Union Square Hospitality Group received Food & Wine magazine's Sommelier of the Year award. He has been written up in dozens of international publications including Wine Spectator, Decanter, Vogue, Food & Wine, the New York Times, Wine & Spirits, Wine Enthusiast and the San Francisco Chronicle. He has served as a Sommelier at The Modern in NYC, Rockpool in Australia, Gary Danko in San Francisco, and Chewton Glen in the United Kingdom. Attorney Becki Young has represented Mr. Engelmann for more than ten years, assisting him with various temporary O-1 "extraordinary ability status" visas and eventually securing approval of an immigrant visa petition based on his outstanding work in the sommelier field.
---
Dr. Sue Johnson
Dr. Sue Johnson is an author, clinical psychologist, researcher, professor, popular presenter and speaker and a leading innovator in the field of couple therapy and adult attachment. Dr. Johnson is the primary developer of Emotionally Focused Couples and Family Therapy (EFT), which has demonstrated its effectiveness in over 30 years of peer-reviewed clinical research, and is one of the primary modalities of couple's therapy used by psychologists around the world today. Her books include: Hold Me Tight, Seven Conversations for a Lifetime of Love, Love Sense, The Revolutionary New Science of Romantic Relationships, The Practice of Emotionally Focused Couple Therapy: Creating Connection, Emotionally Focused Couple Therapy with Trauma Survivors. Dr. Johnson resides in Canada and lectures frequently in the U.S. and around the world; Attorney Becki Young has secured O-1 "extraordinary ability status" for Dr. Johnson and has worked with her for nearly a decade to ensure that her business travels across the U.S.-Canada border are as smooth and trouble-free as possible.
---
Emma Leftick
Emma Leftick is an extremely talented Canadian chef who obtained temporary O-1 work authorization, and then permanent residency, both visas in the category of "extraordinary ability," through sponsorship by Benu, a 3* Michelin restaurant in San Francisco owned by Chef Corey Lee, former Chef de Cuisine at The French Laundry. By the age of 25 Chef Leftick had worked for five of the "The World's 50 Best Restaurants" – in addition to Benu these include El Bulli, the French Laundry, Susur, and La Maison Troisgros. Her case received support from world-renowned chefs including Daniel Boulud, Michael Mina, Grant Achatz, Normand Laprise, Dan Barber, Daniel Humm, Gail Simmons, Jacques Pepin, Gray Kunz, Eric Ripert, Francois Payard, Rudy Maxa, Josh Emett, Roberto Donna, Johnathan Cartwright, Martin Brock, and David Chang.
---
Nelson Mezerhane
The rise of a dictatorial and oppressive regime in Venezuela led to the persecution and eventual exile of numerous high-profile individuals who sought to defend basic human rights in their country, including Nelson Mezerhane. Beginning in 2005, Mr. Mezerhane had been the target of a permanent campaign of judicial harassment and intimidation by the Venezuelan Government owing to his refusal to sell his shares in Globovisión, formerly the sole remaining critical and independent television station in Venezuela. In 1994, Mr. Mezerhane, along with two other investors, founded Globovisión, naming it after "El Globo," a newspaper owned by Mr. Mezerhane. The Government of Venezuela had been aware of Mr. Mezerhane's substantial ownership shares in Globovisión since its inception and used this information to continuously and publicly harass, intimidate, and pressure Mr. Mezerhane into silencing the critical editorial line of the television station. Mr. Mezerhane refused to do so.
President Chavez (now deceased), his prosecutors, and now his successor (President Nicolas Maduro), have accused Mr. Mezerhane of a wide and often dumbfounding variety of criminal acts, for the sole purpose of discrediting and vilifying Mr. Mezerhane in the national public opinion and with the goal of silencing Globovisión or eventually taking the television station under government control. Attorney Sandra Grossman was able to secure asylum in the United States for Mr. Mezerhane and his family. The Washington Post and Lexis Nexis Legal News Room covered this matter.
---
Emilio Palacio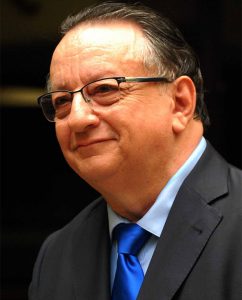 The Former Chief Opinion Editor of the El Universo newspaper in Ecuador, Mr. Emilio Palacio was illegitimately sentenced to 4 years in jail after the President of Ecuador filed suit against him for criminal defamation. In his complaint, President Correa asserted that a paragraph of the article "No to lies" by Palacio, which had been published in the editorial section of the El Universo newspaper on Sunday February 6, 2011, caused damage to his honor and prestige. Correa based his accusation on article 491 of the Ecuadorian Criminal Code, which describes calumnious slander (imputation of a crime) and on article 493, which aggravates the punishment when slander is committed against a public authority. Attorney Sandra Grossman and her team obtained asylum for Mr. Palacio in the United States based on substantive violations of his basic human rights, and especially his right to freedom of expression. The matter was cited in numerous global media sources, including Reuters, El Pais, Public Radio International, and Huffington Post.
---
Yeonmi Park
At just 24-years-old, Ms. Yeonmi Park is the face and voice of the oppressed in North Korea. Through her activism and advocacy, and her bravery in sharing her personal story of starvation, rape, and abuse, she has re-focused the eyes of the world on the twisted and authoritarian regime of Kim Jong-un, North Korea's supreme leader. Ms. Park became an international sensation in October of 2014 after delivering an emotional and engaging speech at the One Young World Summit in Dublin. In her speech, she described her harrowing escape from the repressive North Korean regime and her subsequent victimization by human traffickers in China. Since then she has appeared as a featured speaker in venues all over the world including before the United Nations, the U.S. State Department, the Oslo Freedom Forum and the Women in the World Summit. The BBC named her one of the Top 100 Global women and she's been profiled in thousands of media outlets. In October of 2015, she published a memoir In Order To Live, A North Korean Girl's Journey To Freedom, about her life. Attorney Sandra Grossman and her team were able to secure a visa for Ms. Park as an individual of extraordinary ability in the field of activism for North Korean human rights.
---
Martial Vivot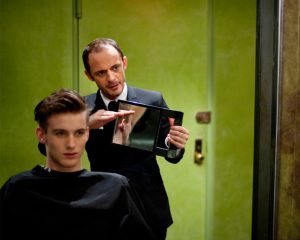 Martial Vivot is a world-renowned men's hairstylist and authority on men's grooming. Mr. Vivot's career began at age 15 with a rigorous 4-year apprenticeship in France where he was awarded the title of best apprentice by The French Hair Academy. He moved to London at age 23 to train at the Toni & Guy Academy, and then returned to France to earn his Master's degree. Foreseeing the dramatic evolution in men's grooming that was on the horizon, in the 90's Vivot became a pioneer in Europe of what would eventually become known as the "metrosexual" approach to men's grooming. His eponymous NYC salon (with two Manhattan locations). His work has been featured in the New York Times, Huffington Post, Details, Rolling Stone, New York magazine, Gotham, Maxim, Town & Country, and Vanity Fair, with headlines such as "Is Martial Vivot the Most Powerful Man in Hair." Attorney Becki Young has worked with Mr. Vivot for nearly two decades, obtaining temporary O-1 work authorization for him, and then permanent residence, both under the category of "extraordinary ability."