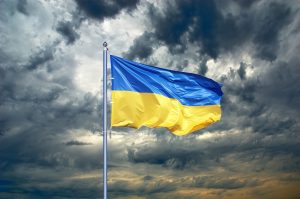 As today marks over a week since Russia's invasion of Ukraine, citizens are fleeing the country to seek safe havens. Several American immigration organizations are advocating for the Biden administration to provide legal pathways for Ukrainian refugees. The American Immigration Lawyers Association (AILA) and its more than 15,000 members called on the Biden administration to move immediately to help Ukrainian nationals:
"AILA President Allen Orr stated, 'Our hearts go out to the Ukrainian people as their country is assaulted by Russia and peoples' lives are lost and upended. The situation is untenable, and the early news coverage is confirming that many Ukrainians are fleeing for their lives. AILA calls on the Biden administration to immediately ensure that Ukrainian nationals who may be eligible to come to the United States may safely and expeditiously do so and to ensure that we do not send people back to danger. AILA calls on the Biden administration to take all necessary steps to expeditiously adjudicate cases filed by or on behalf of Ukrainian nationals and to provide a small measure of security for Ukrainians who may already be in the United States by designating Ukraine for Temporary Protected Status and implementing a temporary moratorium on removals to Ukraine. Only then can the United States live up to its ideal of providing a place of refuge for those fleeing violence."
The Biden administration was quick to condemn Russia's actions as a "flagrant violation of international law" and quickly imposed sanctions on Russia along with other G7 leaders and NATO members.
According to White House press secretary Jen Psaki, President Biden is "certainly prepared" to accept refugees from Ukraine, but she noted that the majority would probably choose to remain in Europe so they could more easily return home once the fighting ended. Other sources familiar with the deliberations have mentioned that the Biden administration is considering offering deportation relief to certain Ukrainians living in the U.S.
Senator Bob Menendez, Democratic Chair of the Foreign Relations Committee, also noted that, "the war in Ukraine is exactly the type of crisis Temporary Protected Status (TPS) was created for— to allow people to live and work in the United States when they are unable to return home safely."
Measures the Biden administration will take to aid Ukrainian refugees remain to be seen. Grossman Young & Hammond will continue to provide updates as they develop.
As an organization that reveres and protects human rights, we are deeply troubled by the war developing in Europe and concerned with the wellbeing of Ukrainian and Russian civilians. War has immeasurable impacts on life, the global economy, human rights, borders and much more. Grossman Young & Hammond is committed to building a world where all people can enjoy the fundamental human right to life, liberty, and security of person.